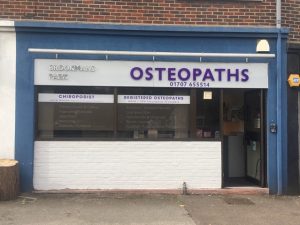 Situated in the heart of Brookmans Park village, our practice was established in 1999 to provide a high quality osteopathic service in a friendly, caring environment.
We offer a range of treatments for health issues at every stage in life, from every day aches and pains that seem to happen for no apparent reason, to those caused by accidents and illness. Our approach is based on understanding and correcting the causes of musculoskeletal issues, and we are successful in treating people with chronic long term injuries and illness, as well as those with shorter term acute episodes of pain.
Treatments include ultrasound, deep tissue and sports massage, cranial osteopathic techniques and acupuncture whenever appropriate. We are proud that many of our patients report an improvement in their symptoms after the first treatment. Many patients report 90% relief of pain by the third session. All our osteopaths are registered with the General Osteopathic Council and British Osteopathic Association (BOA).