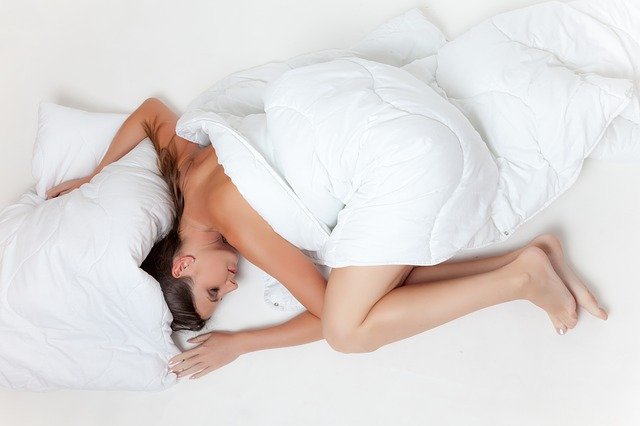 Sleeping positions
DON'T SLEEP ON YOUR FRONT
Sleeping on the front forces the neck into extreme rotation and forced extension.  The position of your neck is similar to looking as far as you can over your shoulder, then tipping your head to the same side (tip your ear backwards) and then looking up towards the ceiling.
DON'T SLEEP IN THE FETAL POSITION
This can be less easy to manage.  Sleeping in the fetal position compresses the diaphragm and digestive system restricting normal breathing mechanics & digestion.  Curving the back forward, and bringing the knees up compresses all of these joints, which can aggravate joints under a lot of strain, or arthritic ones, making morning stiffness in these joints worse.
OK:   SLEEPING ON SIDE

Sleeping on the side can allow the back to have the freedom to move around and fidget into the right position. For keeping the back in alignment, putting a pillow between the knees can be very helpful. Lying on the side is usually better than other sleeping positions for reducing snoring.
OK: LIE ON YOUR BACK  

The weight is distributed comfortably over your entire body assuming the correct use of the pillow. The neck and back remain in the optimum alignment reducing undue stress and strain on muscles, ligaments, nerves or blood vessels of the neck. If the low back is arching when lying flat, put a small pillow under the knees to take the pressure off.
If you are unsure whether you are sleeping correctly, or you wish to improve your sleep position, then please contact any of the osteopaths in the clinic.  We will be happy to offer you a free 15 minute sleep position check and offer advice.