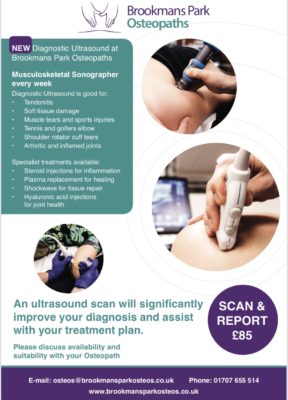 We are so excited to announce the opening of our new diagnostic ultrasound clinic with experienced Physio and specialist musculoskeletal sonographer Jon Wride, who will be running a diagnostic ultrasound clinic every week.
Diagnostic ultrasound is good for:
*tendonitis
*Arthritis and joint pain
*Sports injuries
*shoulder rotator cuff tears
*tennis / golfers elbow
Treatments include
*steroid injection for inflammation
*Plasma replacement for healing
*shockwave for tissue repair
*hyaluronic acid for joint pain
To discuss if you are suitable call 01707 655514 or just book straight in for your scan and report. Cost £85.
(treatments prices available on request)